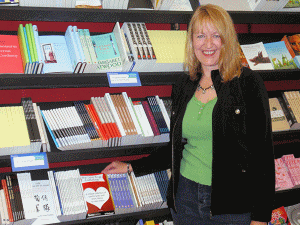 Edinburgh International Book Festival kindly agreed to stock copies of our Love Buzz Anthology to promote at their festival bookshop in Charlotte Square Gardens. James Shaw, Book sales manager, said that "the Love Buzz Anthology added to the diversity of the books on sale at the festival." He also particularly liked the eye-catching cover (which we were very relieved to hear as there was formerly some disagreement over the cover selection in our forum section).

Edinburgh International Book Festival took place from 9 - 25 August 2008 at 5a Charlotte Square, Edinburgh, EH2 4DR.

The Love Buzz Anthology was displayed in the Poetry and in the Short Story sections, which were both situated adjacent to the book store coffee bar.

As you can see from the photograph above, our anthology added a splash of colour as well as a delicious serving of creative content to the menu.

Order your copy of the Love Buzz Anthology today.