In late 2008,
www.writebuzz.com
invited members to submit the synopsis for a book which they had up their sleeve, together with the first chapter, as a competition to inspire budding authors. Writers were challenged with composing an un-putdownable novel, the motivational prize being a publishing contract in association with
www.writebuzz.com
. John Michaelson's idea for 'Greg Aries, Public Dick' was the well-deserved winner, and his extremely readable, enjoyable novel has surpassed all expectations.
'Before I knew it, I was stumbling through icy drifts of broken heart' ... In his debut novel, John Michaelson introduces us to outlandish wannabe private eye, Greg Aries. Unexpectedly and improbably recruited by the mysterious Ruby Jewel, Greg finds himself in the thick of a plot which leads from the rains of Plymouth to the heat of the Philippines. Along the way there's drugs and booze, there's public transport too, and just a sprinkling of back story. Poor hapless Greg - if you're to solve the case and stay alive, sooner or later you'll have to shake hands with the real world. By turns darkly funny, bizarre, and tender, Greg Aries Public Dick is a testament to what we can all achieve if we put our minds to it.
"This book takes you from the dreary drizzle of England to the colourful, vibrant streets of the Philippines as we follow Public Dick Greg Aries on his mission to crack the case of who killed Ms Jewel's brother and why? The book's rhythmic pace and the charming character that is Greg Aries, always in his Trilby, forever getting his words wrong, reflecting on his life, is the perfect read with a glass of wine or maybe even a cup of Java!" Nicky Fleming
"From the moment I read the first chapter I was captivated - and I must say the book does everything but disappoint. Humorous, heart-breaking, and even heart-stopping at times. The plot is neatly laid out and completely believable, but for me the heart of the book lies with Greg's infectious character. His journey from a hapless, self-deluded nobody to a confident, almost competent private eye is wonderful stuff. The comedy value is second to none. The writing is effortless and draws you in from the very first line. An amazing debut novel - bring on the sequel." Eve Becker

Congratulations to John Michaelson for his fantastic achievement. Congratulations to Nicky and Eve too; their reviews appear in the novel.




by John Michaelson
---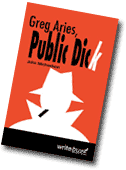 It's just another winter's morning when the dear Ms Jewel seeks out Greg Aries, Public Dick. Her brother is dead and despite a verdict of accidental death, she's not convinced. As it happens, hapless Greg will do anything to 'heart her broken mend', regardless of the danger. In a world of shady trading and black market deals, it's a tricky trick to find out where the truth lies. Poor Greg just can't be sure of anything. An unlikely but likeable detective, our hero struggles with his words as he juggles with the clues. What starts out quietly on the streets of Plymouth soon explodes into a fiery overseas underworld, where he'll need every inch of his dodgy logic if he's to live to tell the tale.
Greg Aries is like no one else you'll ever meet, either fictional or otherwise. In his first novel, John Michaelson demonstrates a storytelling skill that intrigues, amuses and entertains on every page.
Deborah Sutton - www.writingoutloud.co.uk
Perfectly paced and deceptively simple. Greg Aries is daft as a brush and very funny!
Tim Lay - www.sewersidechronicles.com
This comedy of contemporary life is also a tragedy of mental hardship. It reads as if a youthful Philip Marlowe had been let out on the streets and turned out not to be as streetwise as he thought. Witty, knowing, knowledgeable, and a true mystery story, this skilfully-written debut novel takes detective fiction into new country.
Dr Alan Munton - Special Acquisitions, University of Exeter
---
ISBN: 978-1-84549-400-1

PRICE: £7.99
$12.75
€10.50
Enquiries:
TEL: +44 (0) 1284 700321
Email: info@arimapublishing.co.uk